We provide B2B airfare prediction solutions for air travel websites, travel management companies, travel agents, airlines, researchers or any other businesses in air travel industry. Most of the solutions are provided as SaaS (software-as-a-service).
Widget
For a given airfare for flight returned in flight search results on your site, we can decorate it with AirHint airfare prediction widget. A simple widget may look as simple as that and it is fully customizable.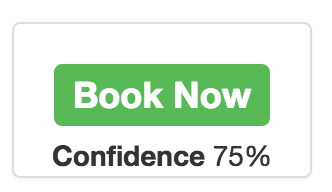 It analyzes the current airfare for the flight and gives a valuable advice for a traveller suggesting whether to book now or wait more.
Along with airfare recommendation, we show the confidence level of the prediction. There are more stats available along with each airfare adn prediction: more detailed explanation of the recommendations, price statistics, etc.
All the element of the widget are customizable and easily embeddable into any website. We work with each business directly to ensure successful integration.
API
AirHint also provides airfare predictions, recommendations and stats via API. For a select flight, it will return:
Prediction (buy or wait)
Confidence %
Hints and stats about the current airfare
Analysis
We provide custom price analysis for a given airline, airport, route, flight or airfare. The objective of such analysis is to find useful patterns and provide insight to business. Analysis is made by professional data scientists specialized in air travel.
If you are interested in any of these solutions please contact us and we will find the best integration option for your business.