The objective of this article is to compare two low-cost airlines Vueling vs Ryanair in terms of patterns of price change. Both are known for implementing yield management in their ticket pricing. That means it is not always best strategy to buy tickets earlier as prices may drop later.
With aggregated data about price behavior for Ryanair vs Vueling, we can see if there are significant differences in how they change prices.
For this experiment, we use the data for Barcelona - Manchester (MAN) flight. Vueling compete with Ryanair directly with this flight and the price range is similar. As for the passengers there is a fair mix of tourists and business travellers. All price observations used in this study contain observations made during June - November 2015. We made daily price observation for this flight for both Vueling and Ryanair.
Average prices for BCN-MAN flights
| | |
| --- | --- |
| Airline | Average price |
| Ryanair | 117 € |
| Vueling | 129 € |
Now given the fact that the price for both airlines Vueling and Ryanair is similar, we will study which other factors may affect purchasing decision. Following is the the side-by-side comparison of key indicators related to price changes for Vueling vs Ryanair.
How often do prices change?
In other words what is the volatility of prices for each airline. This mainly affect travelers who prefer to not book early and find the optimal moment to buy tickets. More often prices change, higher chance are to find a cheaper fare. At the same time such waiting strategy is more risky.
The following chart shows the behavior of price comparing to the day before.
Ryanair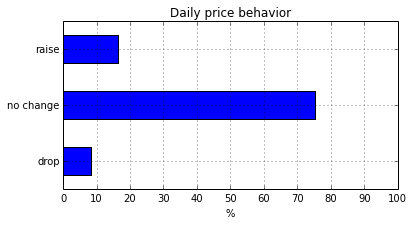 Vueling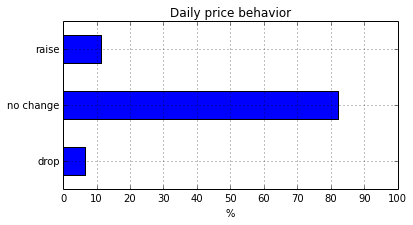 It shows that Ryanair apply more aggressive yield management and their prices change more often. For Vueling in 82% of cases the price did not change. At the same time for Ryanair only in 75% of cases there was no change. Keep in mind that we have only considered daily changes. If price changed several times throughout one day, but returned to the same level next day, it was not considered as a change.
How much do prices change?
It shows how much a traveler can save or lose when waiting for better fare for Vueling or Ryanair. Average price raises and drops are the following.
| | | |
| --- | --- | --- |
| | Ryanair | Vueling |
| Average price drop | 17% | 14% |
| Average price increase | 24% | 17% |
Ryanair changes are more radical, at each step the average increase is more than 24%. So waiting strategy with Ryanair is more risky, but potentially more rewarding. Vueling price changes are lower and more consistent.
Which days of week do prices change?
As shown in the following chart, for Ryanair the highest number of price drops was observed on Thursdays. This pattern is also confirmed in more details in this article. For Vueling most of the drops were observed on Wednesdays and there was almost no drops on weekends.
Ryanair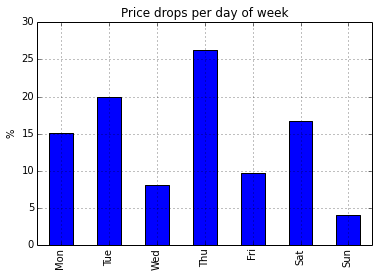 Vueling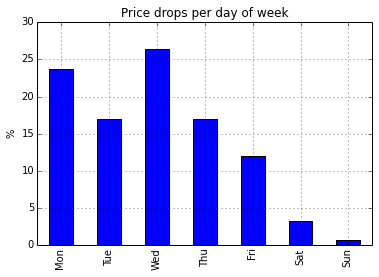 Conclusions
Fares for Barcelona - Manchester flights for Ryanair and Vueling are similar.
Ryanair applies more aggressive price strategy:

Price changes more often
The amount of changes is higher

For both Vueling and Ryanair the chances of finding price drops depend on day of week.
All these factors are considered by Airhint cheap flights prediction algorithm which works with both Ryanair flights and Vueling flights.
More articles